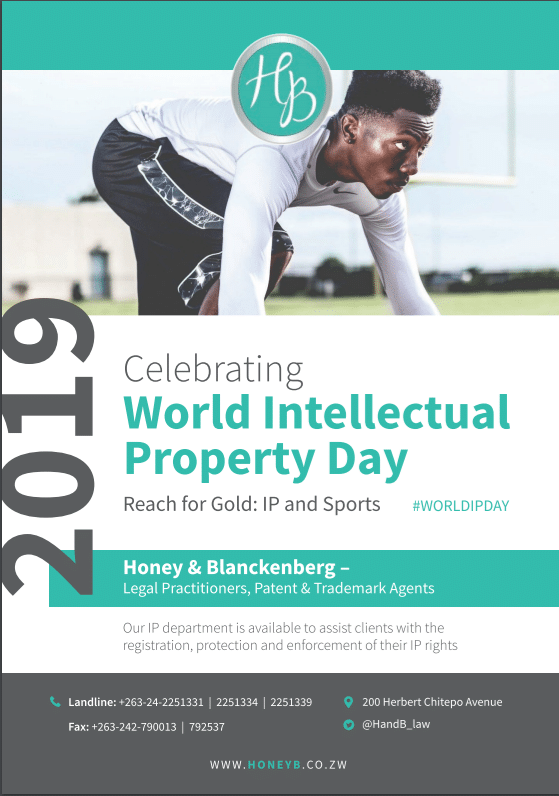 World Intellectual Property (IP) Day is celebrated on 26 April each year. It was established by the World Intellectual Property Organisation (WIPO) in 2000 in commemoration of the day the Convention establishing WIPO came into force. The day is celebrated by Intellectual Property Offices, IP lawyers and agents around the world with activities and events that promote general awareness of the importance of IP.
In 2019 the theme of World IP Day is "Reach for Gold: IP and Sport" and its purpose is to highlight the interconnection between IP rights and sport. Modern sport is a global industry with different stakeholders, all of whom have varying interests that are protected by different categories of IP law, namely patents, trade marks, industrial designs, copyright. The object of IP law is to encourage and incentivise economic activity by granting legal exclusivities for creativity and innovation that meets the legal criteria of each category of IP, and which IP rights holders can commercialise for their economic benefit. These legal exclusivities are valuable IP assets as they prohibit third parties from exploiting the underlying creativity or innovation without the prior consent of proprietors of IP assets, who may grant such consent subject to payment of licensing fees or royalties and any other conditions they deem fit.
A patent is a legal document which grants the proprietor of the invention, within a specific territory and for a defined period, the exclusive right to control the use of the invention by prohibiting third parties from making, selling or using the invention without the authority of the proprietor. Patents can be obtained for improvements on prior inventions as long as the technical effect of the improvement is significant and was not obvious to a person skilled in the field of the invention. They are granted in all fields of technology including sport technology. Well known patents in the sports industry include the Skycam, the video assisted referee, and athletic shoes that are fitted with devices that track the wearer's performance.
A trade mark is a mark used in relation to goods and services by a business for the purpose of indicating a connection in the course of trade between the business and its goods or services, and distinguishing them from the goods or services of other businesses. A mark includes a badge, brand, carton panel, colour, design, device, emblem, figurative drawing picture or image, heading, label, letter, logo, logotype, monogram, name, numeral, packaging, pattern, shape (but not the features of the shape), script, sign, signature, slogan, symbol, ticket, word (in plain lettering or in special form or stylised), wrapper, or any combination thereof. In some countries non-traditional marks are catered for, such as sound marks, smell marks, taste marks, and multimedia marks (moving images, holograms and gestures). Trade marks are valuable IP assets which, if strategically used, can provide businesses with a competitive edge as a sign of the quality or brand associated with their goods and services. Sports manufacturers such as Nike, Adidas, New Balance, Sketchers, Puma and Asics are well known brands for athletic shoes, sports apparel and equipment. They make strategic use of strong IP rights to retain and increase their market share of the global sports industry.
An industrial design relates to those aspects of goods and articles which make them aesthetically appealing and facilitate their marketing and commercialization. These aspects may consist of features such as the shape, surface, patterns, lines or colour. Industrial designs are applied to a wide variety of products in industry and handicrafts such as the Coca Cola contour bottle, the Mini Cooper car, the Converse All Star sneaker and Vlisco fabric designs.
Copyright is a legal right which permits the owner of an original work which is recognised by law as eligible for copyright protection the exclusive right to deal with such work, and to authorise third parties to deal with any feature of the bundle of copyright that the owner permits them to deal with. Works which are eligible for copyright protection include literary works, musical works, audio – visual works, sound recordings, broadcasts, programme carrying signals and published editions. Examples of original creations protected by the law of copyright include live coverage of sports events carried by speciality sport networks such as Super Sport, NBA TV, ESPN and Golf Channel on television, radio and other media platform.
The hall marks of good sportsmanship – excellence, entertainment and fair play – have spurred the development of the business of sport and increased the participation of fans from amateur contests watched by a few hundred spectators to lucrative games and competitions which are watched live by millions of fans around the world.
Patent rights are a key asset for manufacturers of sports equipment in different sporting disciplines as legal rights provide a reward for the resources and ingenuity that are applied into researching and developing new materials that improve upon and enhance the capabilities of sports equipment thereby maximising the innate prowess of the athlete. Better sports equipment enables athletes to maximise their talent and helps them attain their sporting goals. The expertise of the sports manufacturer is not restricted merely to the professional athletes who make use of improved equipment in competitive games but cascades to amateur athletes, fans and consumers around the world as the manufacturer's innovation is commercialised and adapted for the retail market.
In order for organisers of sports events to host events that are a financial success and a thrilling experience for the fans, they frequently raise funding for such events by negotiating sponsorship deals with corporate sponsors for the privilege of marketing their trade marks and brands in venues hosting the sporting events.
Sports federations and organisers of sports events frequently exploit the popularity of sporting fixtures and the existence of fans around the world to finance such events through the sale of exclusive broadcast rights to media houses. Broadcast rights are a valuable source of revenue for rights holders as the extent of the popularity of the games around the world has a significant bearing on the price that the sports organisations can negotiate for broadcast rights. Similarly where games have a global pull, the larger the fee the organiser can fetch for exclusive rights.
Media houses benefit from the purchase of exclusive media rights to sporting events as they are able to generate large revenues by airing content on television, radio, the internet and mobile devices via broadcasting stations owned by them or affiliated to them. They also make revenue from fees paid by third parties for content retransmission, on-air advertising and subscriptions.
The law of copyright and neighbouring rights also protects news reports and photographic images of the events published by sports journalists, photojournalists and organisers of sporting events from unauthorised reproduction of their work or adaptation thereof, thereby allowing the owner of the copyright in a particular work the right to obtain financial benefit from the creative work.
The thrill of watching sporting events extends to the aesthetics of the sportswear on the field of play. Athletes and trainers select sportswear for its practicality and safety as well as its comfort and style. As a consequence, manufacturers of sportswear frequently make use of industrial design law to protect innovations in the design of athletic shoes, sports clothing and headgear.
Professional athletes and sports teams with large fan bases or global following exploit their popularity by negotiating marketing, licensing and merchandising agreements thereby increasing revenue for athletes and sports leagues. Replica kits and souvenirs are frequently protected by IP rights and sold to fans to increase brand loyalty.
As sports stars have become global celebrities, the business of managing the image or personal brand of sports stars has become a lucrative source of revenue for the sporting industry. This is evidenced by the multi-million dollar endorsement, sponsorship and commercial agreements which sport celebrities, clubs and leagues are able to negotiate with corporates and manufacturers of sportswear as well as with gaming companies which produce sports video games that simulate realistic game play and use the images of celebrity athletes.
An off shoot of video gaming is the development of eSports. These are live video game competitions that have evolved from the individual gaming enthusiast into team sports with multiple players. As with traditional sports, eSports are characterised by different stakeholders, eSport gear and equipment, eSport stars and teams, global followers, live broadcast of games and tournaments, lucrative endorsement and sponsorship agreements. The effective management of the IP inherent in eSports has spurred the growth and development of eSports into a multi-billion dollar industry.
Honey & Blanckenberg
Legal Practitioners, Patent and Trade Mark Agents
in Zimbabwe and ARIPO
24.04.2019